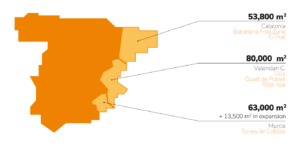 The headquarters of Consum is located in Avenida Alginet no.1, Silla (Valencia), next to the General Goods Platform, whose warehouse facilities cover an area of some 44,000 m2 and store dry food, household products, perfumery and bazaar products.
In the Valencian town of Quart de Poblet you can find the Fresh Products Platform, which has a total area of 24,000 m2 divided between facilities to store meats, delicatessen, dairy, frozen food and baked goods. Another platform, located in Riba-roja, completes the supply of fresh products to the commercial network. Its more than 12,000 m2 are dedicated to the distribution of Fruits, Vegetables and Fish.
Consum also has several platforms in Barcelona: the General Merchandise platform, in the Zona Franca, which is over 42,000 m2, and another in the Prat de Llobregat, with 11,800 m2. In Las Torres de Cotillas, Murcia, is also located the Regional Integration Platform, with some 76,500 m2.